As the business world continues to navigate an ever-changing landscape, the role of the strategic B2B PR partner is fast evolving to address the issues faced by today's top executives. We look at some of the key challenges and PR strategies to use in 2024 and beyond.
We're living in an era of heightened risk and instability, and many business leaders are grappling with a sense of unease. The once familiar landscape has been transformed by the forces of globalisation, geopolitical upheaval, pandemic and new technologies. As a result, the way businesses communicate with target audiences and the wider world is having to evolve at a rapid pace, too – and that means PR strategies are being reshaped to meet new demands.
What does this mean for business leaders in Q4 2023 and 2024 – and how can B2B PR strategists help?
Authentic B2B PR strategies in the AI era
We're in the middle of an artificial-intelligence revolution. But rather than devaluing the input of 'real people', we're actually seeing a move to reevaluate and place a higher premium on human content, interaction and thought processes.
Human content wins
As robots take their place in the creation of written material, it will become even more vital to distinguish oneself from the crowd. True value will increasingly lie in content that not only demonstrates knowledge, but also captures and conveys the human experience.
Make it authentic and open
As a result, we're going to find that a greater degree of openness will be necessary. Business leaders and brand owners must be willing to discuss their flaws and mistakes as well as their triumphs, demonstrating that they, too, are fallible. At a time when readers and listeners are inclined to assume that AI-generated content is ubiquitous, the authenticity of human expression will become an even more important commodity.
Make it relatable
We all yearn for those moments that make us say, "I've noticed that too!", or, "Wow, I thought I was the only one!" Relatable nuggets make us feel connected and part of things. Thought leaders, who may once have hidden behind computer screens and reams of transactional text, must now find ways to prove their human value.
Ask the experts for help
By engaging with PR strategists to generate content on their behalf, business leaders not only stand to benefit from well-written, human-centric prose that lifts off the page (usually drafted by experienced journalists), but they're also tapping into large, complex and established media networks, ensuring their views get placed in front of the correct audiences. Responding to events of the day in an original way increases relevance in the eyes of prospects and establishes sector authority.
Take thought-leadership seriously
And that really matters. Did you know that, according to a LinkedIn and Edelman 2022 report, 55% of decision makers say that during an economic downturn, it is more important than ever for non-essential suppliers to produce high-quality thought leadership to win their business.
The same number also say that if a piece of thought leadership doesn't capture their interest in the first minute they'll move on.
In the same report in 2021, 42% of decision-makers surveyed invited an organisation to bid for a project based on thought leadership, and 54% were persuaded to purchase a new product or service they'd not previously considered buying?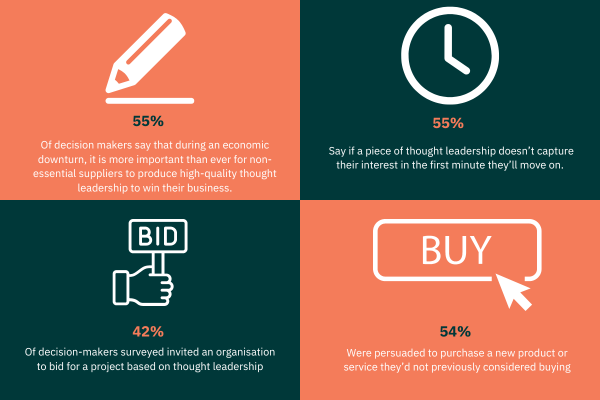 How PR strategies bolster executive profiles
With humanity and trust now playing pivotal roles, the significance of senior leaders' visibility and transparency is more important than ever.
In order to establish themselves as trusted figures and industry experts, we're seeing an increasing number of executives actively seek involvement in their companies' PR campaigns.
In fact, agencies like ours regularly recommend high-profile articles, podcasts, broadcast opportunities and events as a means to foster trust within organisations and beyond.
Involving senior leaders in PR initiatives serves as a powerful tool for building internal unity and external credibility.
By being visible and approachable, executives can establish direct connections with employees, instilling a sense of trust, confidence and shared purpose – which in turn can help reduce staff turnover.
Externally, their involvement conveys authenticity, expertise and a genuine commitment to their industry, further strengthening their brand's reputation.
B2B PR strategies for successful in-person engagements
The business world is experiencing an uptick in real-life events.
Lots of business owners and managers are returning to industry conferences. They're shaking hands, chatting, networking and learning. Because conferences aren't just about information. They're about connecting. They're about meeting colleagues, partners, vendors, customers and competitors and talking shop face-to-face.
In a world where photographs, videos and web copy can be effortlessly manipulated, how does one establish the truth? The answer could well lie in live events experienced first-hand.
Leaders, therefore, will need to embrace increased visibility, unwavering honesty and unfiltered openness if they want to gain target audiences' trust. The AI-driven landscape demands not only that we reclaim our individuality, but also that we rediscover the power of genuine human connection.
A PR strategist will know exactly which events and conferences are right for a particular business, organising for executives to attend, or to avail of speaker opportunities. And they'll use intel gathered to push a business' agenda in the media.
Using B2B PR to address purpose and values convincingly
Today, customers and talent possess a high level of savviness, so lip-service, green-washing, or feeble ESG (environmental, social and governance) and D&I (diversity and inclusion) strategies are quickly sniffed out.
To thrive in 2024 and beyond, it has to be about authenticity and substance. This has given rise to a key PR trend – communicating the tangible evidence and concrete details behind such strategies and creating a foundation of brand credibility.
Thoughtlessly jumping on bandwagons such as Pride, without genuine alignment and purpose, can prove hugely detrimental to a brand. Empty gestures of support for the LGBTQ+ community are swiftly recognised as disingenuous – and businesses pay the price.
The fear of cancellation looms large in the minds of many business execs. The solution lies in developing meaningful and impactful PR strategies that receive buy-in from all levels of the organisation.
Transparency and evidence-backed approaches, effectively communicated through PR campaigns, form the best armour when it comes to being questioned about 'purpose' commitments.
Every company is on a journey, and there's always room for improvement. It's time to shed the reluctance to speak up, to move past the notion of 'we haven't done enough to discuss it yet'. Instead, embrace openness and honesty, sharing what you're currently doing and the steps you plan to take. People appreciate the honesty, they really do.
The path to success lies in a genuine commitment to change, supported by a transparent and well-communicated PR strategy. It's time to showcase the substance beneath the surface and demonstrate an unwavering dedication to progress.
PR strategies for merger and acquisition success
In various sectors, including law, insurance, telecoms and construction, we're witnessing a surge in mergers and acquisitions (M&A). This flurry of activity can be attributed to the perfect storm caused by economic uncertainty.
Larger companies, driven by the need for rapid growth and a desire to eliminate competition, are increasingly turning to M&A as a preferred strategy over organic growth. Simultaneously, smaller companies are actively seeking M&A opportunities as an exit strategy.
In this landscape, PR can play a pivotal role in driving success. It serves as a powerful tool for raising awareness and positioning a company strategically. It can showcase a business as a prominent player in search of smaller entities to acquire, or highlight its potential as an investment-worthy organisation.
By leveraging effective PR strategies, companies can establish their presence and attract the right opportunities, ultimately propelling their growth and success.
Looking to the future
If I'd been asked to draft this article a year ago, it would have looked very different. And while change can make the heart race a bit, businesses can weather most things if they seek out the right expertise and B2B PR strategist. Because how businesses communicate internally and externally matters – perhaps now more than ever.