Andrea Switzer recently joined Midnight's ranks as a Senior Account Executive. Here's a behind-the-scenes tour of her whirlwind first month at our agency.
When I moved to Brighton in March 2023, I knew I wanted to take advantage of the wonderful community Brighton (& Hove!) is known for. After commuting to London for the past two years, whilst living further north, I was really excited at the prospect of learning about the world of PR in a smaller city. When I saw Midnight was hiring, I knew that this was my opportunity to become part of the wonderful city I found myself in.
In my first interview with Alex, I was asked if I was a dog person. As the sweetest pup roamed around the office, I knew I was in a good place. Starting my position in October is one of the highlights of my 2023, and the first four weeks have continued to build on that.
Learning the ropes
Working in PR requires a lot of multi-tasking and communication with the team. It can be quick, trying to keep up with the constantly changing news, but having a positive team around you makes everything okay. That's what the Midnight team is like for me.
Sending that first piece of writing off to be reviewed at a new workplace can be intimidating, but when you trust your team and know that the feedback will be constructive and informative, submitting that piece doesn't seem so scary anymore.
During my first week, I was given the task of researching a topic I knew nothing about, but am quickly becoming an expert in. Along with learning a new job and meeting new people, my first week ended by being whisked away on the Midnight Away Weekend – to Verona!
Whisked away to Italy
Now, not only was I joining in on a weekend everyone looks forward to yearly, but no one except Flo and Alex knew where we were going… that train ride to Gatwick where we learned we were travelling to Italy is one I won't forget!
Being in Verona allowed me to get to know everyone and walk into the office on Monday excited to see people who I had just joined for lovely dinners and lots of gelato. We also had a three-hour walking tour where our guide explained the history of Verona leading up to the famous story of Romeo and Juliet. Most of us hadn't been to Verona before, so this was a great way to share a new experience.
Meeting our local community
On my second week I was ready to get stuck in and learn as much as I could about my new job. This involved having conversations with everyone in the office. Collectively I was taught about the operations and systems, PR databases, and invited to join a networking event at the end of the month. I also started writing press releases and contributing to research, making me feel at home and comfortable with my new colleagues.
My third week showed me just how important Midnight is to the Brighton business community. After a week of writing and getting to know my clients, I joined Flo at the Brighton Summit. We spent the day attending talks, participating in workshops and meeting the community. Telling other attendees that I worked at Midnight and hearing the reply "Oh yes, I know Midnight!" confirmed that I was a part of something special.
The event was made even better as Flo continued to introduce me to people from the Brighton community. As we sipped tea and snacked on cakes between talks, I was introduced to people in comms, finance, innovation and education. As a newbie on the scene, I was a little nervous to attend some workshops by myself. In no time though I was chatting away, feeling part of the community.
Onwards and upwards
Now in my fourth week, I really feel like a member of the Midnight team. I look forward to coming into the office and tackling the next item on my to-do list. While I'm still learning about the company and the job, I feel like I'm contributing more to the team every day I'm here.
This week I've written commentary, distributed a press release and sat in on a client meeting. Next week I'll be attending another networking event, this time on developments in Brighton and Hove. Everyday I'm learning more about subjects that never even crossed my mind a year ago! Now I have a better understanding of both my community and my clients, which is a wonderful feeling.
I've had an incredible first month, from flying to Italy to meeting the wonderful team at Midnight, as well as the wider Brighton & Hove community. This first month is just the beginning, and I'm so excited to see how far I can go with Midnight!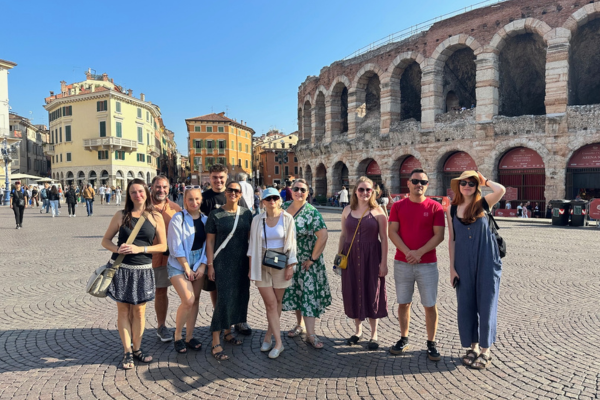 The Midnight team in sunny Verona